February 19, 2014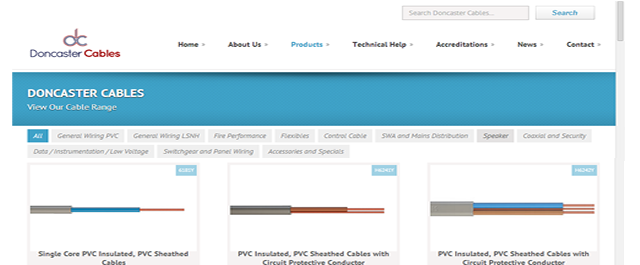 New Website Launched
In order to keep us with the trends in website development and the online environment, we are very pleased to announce the launch of our brilliant new website. One of our company objectives is to maintain this site and develop it further in order to be able to connect to you and provide you with more information regarding our company and products.
In addition to the websites increased aesthetic appeal, we have introduced new features which we hope will ensure that visiting our site is a simpler, quicker and more interactive experience as well as providing you with more information, news and detail about our company.
In order to ensure that you make the most of our new site a few of the key features are highlighted below :-
NAVIGATION - The new website has been entirely restructured providing you instant access to Doncaster Cables pages. The site has been developed to provide easier navigation through our company profile, news, product ranges, technical help, downloads etc.
ABOUT US - The new website gives a more detailed account of who we are as a company; and what we stand for.
INFORMATION - There is a substantial amount of information that has been added to our new website. Including large sections of product data, technical help, pages and easy access to PDF downloadable product data sheets, approval certificates and trade credit application forms.
LATEST NEWS - The all new latest news aspect of our website is a method in which we are hoping to convey any interesting news regarding our company; be it new approvals, new product ranges or changes to our infrastructure.
COMMUNICATION - We are creating an RSS feed which you can choose to subscribe to. This will allow our latest posts/information to be delivered directly to you - thus saving you time and ensuring you do not missout on any Doncaster Cables news.
CONTACT US - We have provided a new contact centre. WIthin this contact centre we have given you the opportunity to contact us with not only sales enquiries but also how you think we can improve our website in order to offer you the best services.
So please feel free to browse our new website and enjoy its new features and benefits.