April 09, 2014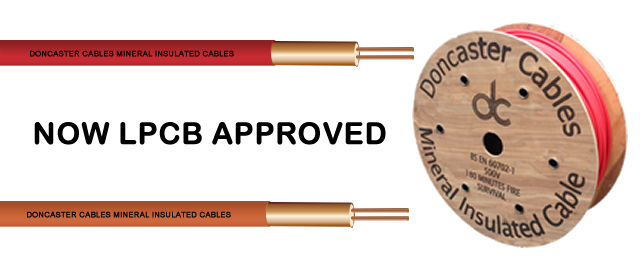 DONCASTER CABLES MINERAL INSULATED CABLE
We are pleased to announce that our

DONCASTER CABLES MINERAL INSULATED CABLE
is LPCB approved!!
Our 'Doncaster Cables England' mineral insulated cable has now obtained LPCB approval, meaning we are now in a position to supply Mineral Insulated Copper Cables which are LPCB approved to BSEN60702-1 and IEC60332-21; giving fire survival times which EXCEED 3 HOURS AT 950°C.
These cables are suitable for both indoor and outdoor applications and are best suited for fire protection appliances in critical circuits such as alarms, sprinklers, emergency power and lighting and smoke control systems. Mineral insulated cables are particularly suited in industries where flammable gases or liquids are present. Mineral insulated cables ensure circuit integrity for both control and power circuits of essential equipment such as in hospitals, power stations, railways, bus stations, shopping centres etc etc.
So what are the benefits of using Doncaster Cables Mineral Insulated Cables???
Doncaster Cables has multiple third party approvals to BSEN ISO9001 and therefore is proven to continually maintain its product and performance
Over 30 years of cable manufacturing experience leading to an extremely well known and desired brand name
Non-Ageing - Mineral Insulated cable is life long and does not deteriorate or weaken with age.
Cable is inorganic - Our Mineral Insulated Cable does not contain silicone; unsheathed Mineral Insulated Cable is completely inorganic
Air-Tight - Mineral Insulated cable is constructed in such a way that it is impervious to oil, gas and water
Small Overall Diameter - Mineral Insulated cables have a smaller diameter than the alternative soft skin fire performance cables
Totally Flameproof Barrier - The copper sheath and the extremely well compacted mineral insulation resist gases, waters and vapours.
Earth Continuity - No separate earthing is required due to the copper sheaths low resistance providing sufficient earthing
Resistant to Fire - Mineral Insulated Cable is a fire survival cable and is extremely fire resistant and will withstand in excess of 3 hours at 950°C. It will comply with fire tests to BS EN 8434-2, BS EN 50200 Class ph120 , BS EN 50267-2-1, BS EN 5839-1 Clause 26.2 Enhanced, BS EN 60332 and BS 6387 CWZ
To find out more please follow this link to our product page where a downloadable datasheet can be found click here