June 20, 2014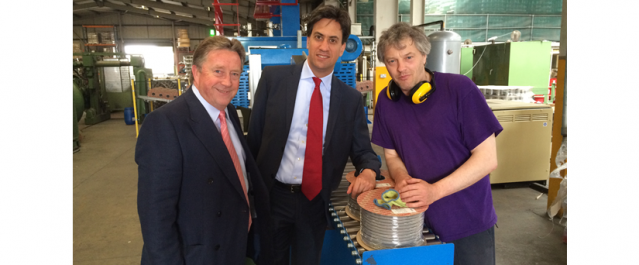 Ed Miliband Visits Doncaster Cables
The right honorable Edward Miliband, leader of the opposition, visited Doncaster Cables factory in his local constituency (Doncaster North) on the 13.06.14.
Ed Miliband met with directors of Doncaster Cables, Chris Mallinson and Terry Guest, to discuss the ever growing problem of substandard and counterfeit cables which are being imported into the United Kingdom.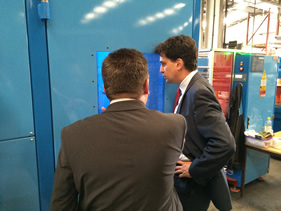 Ed Miliband was shown around the manufacturing plant and took time to meet employees.
He was shown the steps which have already been taken to tackle the growing issue regarding foreign imports of non-compliant electric cables.
He was also shown evidence of new major investment in state of the art machinery and equipment.
This issue of imported substandard and counterfeit cable has recently been brought to the forefront of the electrical industry through various campaigns, such as the Approved Cables Initiative (ACI). These campaigns have highlighted the current dangers in the UK market place, examples of these are:-
> The recall of defective steel wire armoured cables with poor zinc coatings - manufactured in Turkey
> Faulty cable with high conductor resistance removed from sale in a major UK DIY outlet - manufactured in China
> Counterfeit steel wire armoured cables manufactured with considerably smaller conductor sizes than marked on the cable - manufactured in India
> The recall of 20 million metres of general wiring cables - manufactured by Turkish manufacturer Atlas Kablo
> Over 120,000 reels of counterfeit electric cables seized by French Customs resulting in the arrest of three people - believed to have been manufactured in Hong Kong.
The meeting with Ed Miliband covered the effects of these non-compliant and in some cases dangerous cables on both businesses's and consumers in the UK.
The need for changes in legislation which could end this dangerous practice and protect UK citizens were discussed in detail with ideas from both parties being aired as to how these changes could be achieved. Mr Miliband pledged his support to this end.